A handmade customized bit made by a blacksmith who has knowledge of the horse's mouth costs from 5000 SEK including VAT.

What do you get for the money?
Up to 2 hours consultation on design, including sketch suggestions for your specific bit, with Sara who has a unique knowledge of bit and forgeing. (all time over 2 hours is charged for every started hour with 250 SEK incl. VAT per hour). 2 hours are good enough with time for majority of all bits.
300 SEK is the cost of consumables, materials and workshop.
The cost of my work in the smithy. Each bit takes up to 16 hours to do.
Almost 2/3 of the amount you pay goes to VAT, taxes and other fees that belong to run the business.
The cost always includes Satisfied Horse Guarantee! This means that if your horse doesn't like the bit as we thought, I will make up to two new bits for you with no additional cost (shipping costs will be added).

There is also an opportunity to return the bit if it doesn't match you and your horse, provided it is in the same condition as when it left the smithy. Feel free to contact me for this!

To me it is absolutely most important thing that you and your horse be satisfied with what I'm makeing. I do this for the horse's sake!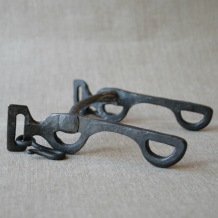 A request is always free, send your request here:
Good to think about when ordering:
When it's time to order a bit, it might be good to think some about the following:
What should the bit be used for, do you compete, ride in the woods, or showjumping or driving?
How is your horse; exterior, strengths and weaknesses, mentality?
What bits have you tested so far and what did your horse like about them?
How are you as a rider? How schooled are your hand?